General Information:
Please do not send any promo / demo or release requests!
I am not signing any new bands at the moment. Excluded bands with which I am already in negotiations.
News
News 05.11.2019
Shop Up-Date!
News 31.10.2019
Today is the day, the demo of "Nebran - A New Path..." is available!
The first 33 pieces contain a Logo-PIN. First come, first served.
The tape is available for 4,90€ (+postage/package).
Nebran - traditional Black Metal in the style of the 90s (Strid, Emperor), perfect for the cold Season!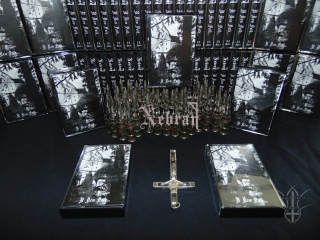 Tacks on YouTube:
A.A. MC012 Nebran - A New Path... (official)
A.A. MC012 Nebran - A New Path... (full Demo)
News 22.09.2019
A warm welcome to Nebran from Franconia,
which has now become part of the Apocalyptic Art family.
Nebran was founded in march 2019 by A. / M.
Nebran is a homage to nature and the middle ages combined with dark and melancholic visions.
Musical influences are especially the early releases of bands like Summoning, Strid, Burzum, Emperor, and Samael.
You can follow Nebran under
www.facebook.com/nebranblackmetal
www.instagram.com/nebran_official
Apocalyptic Art and Van Records
will release the first demo of the project
on 31st October, 2019 as
MC, lim. 111 (Apocalyptic Art)
12" vinyl, lim. 218 items (Ván Records)